What is E-waste ?
As per E-Waste (Management) Rules, 2016.
'E-waste' means electrical and electronic equipment, whole or in part discarded as waste by the consumer or bulk consumer as well as rejects from manufacturing, refurbishment and repair processes.
E-waste is a popular, informal name for electronic products nearing the end of their "useful life." Computers, televisions, VCR's, stereos, copiers, and fax machines are common electronic products. Many of these products can be reused, refurbished, or recycled.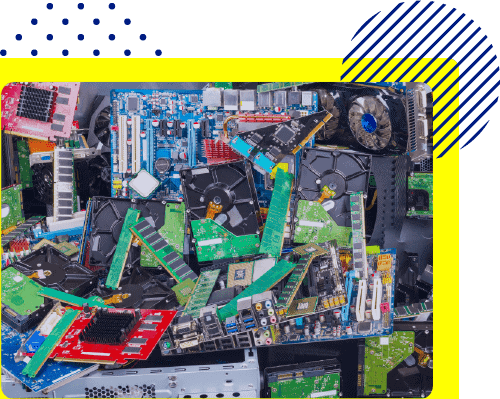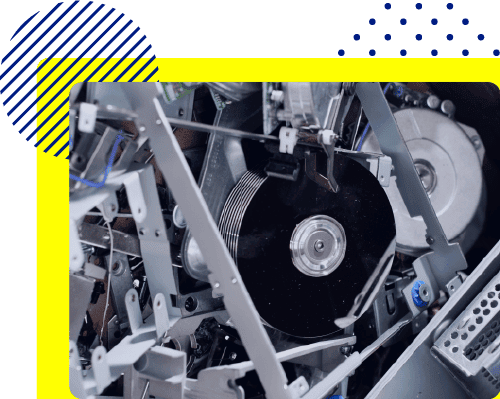 E-waste Recycling
Once these materials were found, There was a need to test each E-waste component to see how long they lasted. As per the Study, the components lasted much longer than expected. Then It was concluded that this is a serious issue to the Environment and it has to be fixed in a proper way.
While this procedure is underway, There was a need to do more than throwing the things away. There exists the Recycling process and methods.
Importance of E-waste Recycling
There is a paramount importance for the E-waste recycling systems in today's situation. These systems were designed to get all the valuable electronic components out of our landfills.
One of the major issues we are faced with today is finding a way to provide the highest quality of life for all of our next Generations. This is why there was a need for Testing, which developed an option for examining every material that is produced today.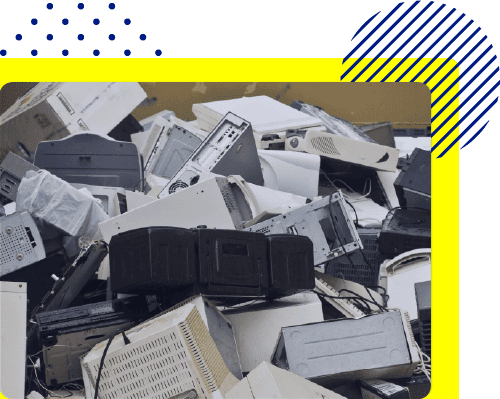 Offering secure Recycling services for
E-waste & Old IT Assets
Keep your Data Secure, Protect Yourself with the right choice for handling E-waste.
Contact Us
E-waste Recycling Process
E-waste is nothing but the waste products that come from electrical equipment that is bought and reused, and the process used for its recycling is called E-waste recycling.
Electronic Products are one among the most available options when compared to other forms of waste. However, it's important to remember that not all electronic products have to be recycled. Different types of products need specific programs & processes to be accepted as recyclable.
There are various sources which provide the raw materials, where these devices are assembled and then operated or maintained.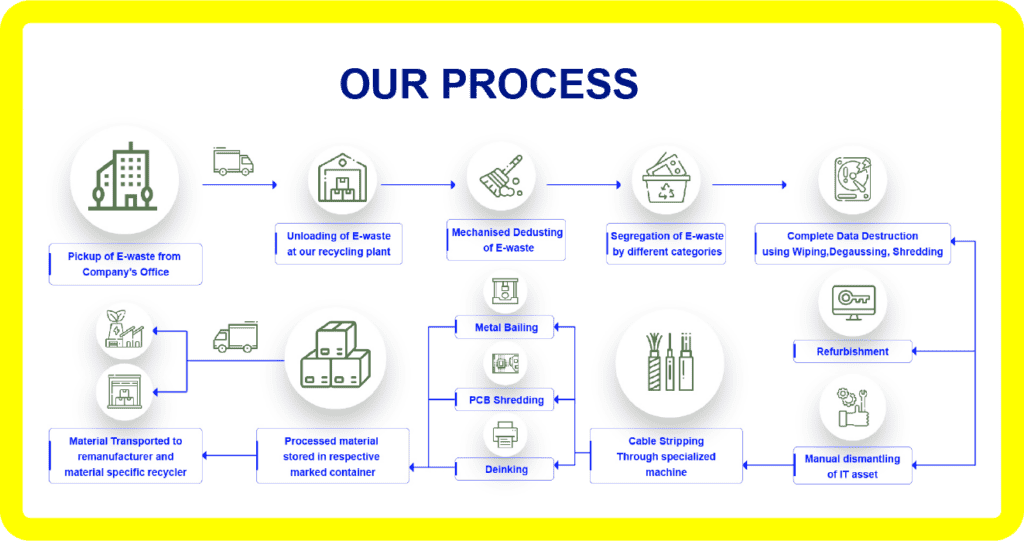 Key Indications need to be followed prior Recycling Process
* Before starting the process of recycling, the electronics need to be classified according to their use. This helps in making the process of sorting easier.
* One should need to find out what materials these electronics are made of, What type of metals are used for the manufacture of the product.
* When one takes electronic products for recycling, make sure that the labels on the products are intact. If they are not, it's essential to file them away. Make sure One does this to avoid the possibility of them getting lost. Only then one can start with the recycling process.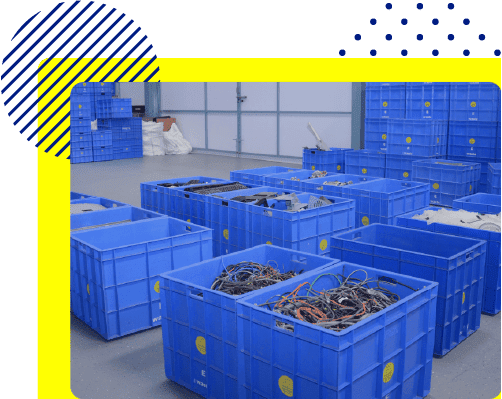 Our Process
* A corporate give us a call at our toll free number 1800 102 8286 and asks for E-waste collection services.
* We get the location of the corporate and the time at which the scheduled pickup is needed and arrange for E-waste pickup.
* We pickup E-waste directly from the company's office location through our well-equipped pickup staff.
* Using trolley, bins, and crates provided by us our staff load the E-waste in the transport vehicle and it is taken to our recycling plant for further processing.
* At our recycling plant, the E-waste is either refurbished or dismantled depending on its condition and sent to
re-manufacturers or material recyclers.
* We also provide the corporate with a recycling certificate and handhold the company through the entire regulatory compliance process.
Our Core E-waste recycling services offered to the various Businesses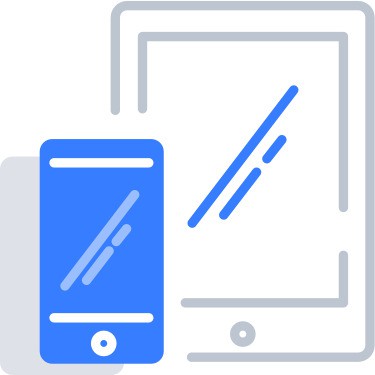 WEEE
WEEE is one of the vital & rapidly growing methods to protect the environment from hazardous effects of electronic waste and reduce the environmental impact of products.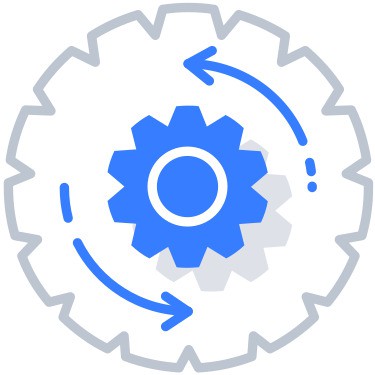 EPR
Extended Producer Responsibility
( EPR ) laws outline the plans for our nation's environmental safety, energy efficiency, and reduction of non -biodegradable products and waste.

De-inking
De-inking is one of the unique process which removes the printed Ink from the materials before obtaining a recycled product. We provide custom tailored De-inking services for various Businesses.
E-waste Disposal
The Government of India released the E-waste (Management) Rules in 2016 to control the disposal of Waste Electrical and Electronic Equipment (WEEE) along with the Restriction of Hazardous Substances (RoHS) directive.
E-waste holds the producers and distributors of electrical and electronic equipment (EEE) responsible for the safe disposal of end-of-life products by collection and recycling of their products. On the other hand, RoHS restricts the use of certain hazardous substances like lead mercury, cadmium, brominated flame retardants, and others in E-waste. We help manufacturers and distributors fulfill their mandatory E-waste obligation by complete end-to-end processing of end-of-life products including collection, dismantling, and recovery.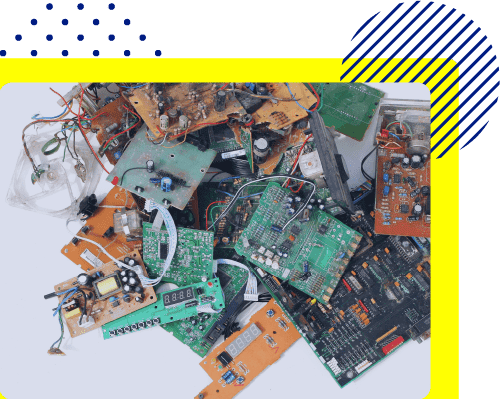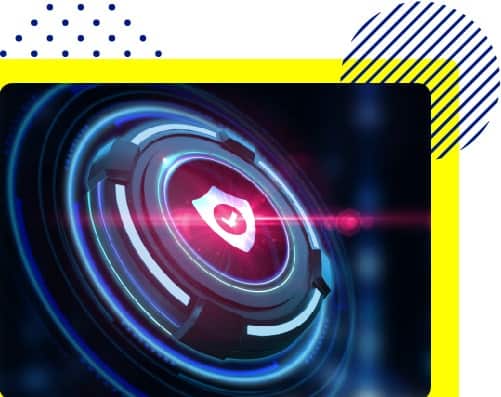 Safe & Secured Process
Our E-waste recycling process consists of mixture of cutting-edge automated machinery and manual sorting and dismantling by a well-trained and professional staff.
This process enables recycling of E-waste in the most environmental friendly manner possible with the highest recovery from products at the end of their life cycle.
KSPCB Certified Recycler
We are registered as an authorized recycler with the Karnataka State Pollution Control Board (KSPCB) and are a member of the TSDF (Treatment, Storage, and Disposal Facilities).
Prakruthi's E-waste recycling plant is equipped with state-of-the-art-processes that have been certified as per the coveted industry benchmarks including ISO 9001 QMS, ISO 14001 EMS, ISO 27001 ISMS, ISO 45001 OH&S as well as Responsible Recycling (R2).
We also provide complete hand holding on the documentation process including detailed reporting (Form 2, Form 6, Passbook entry as per KSPCB rules), and certificate issuance for E-waste recycling.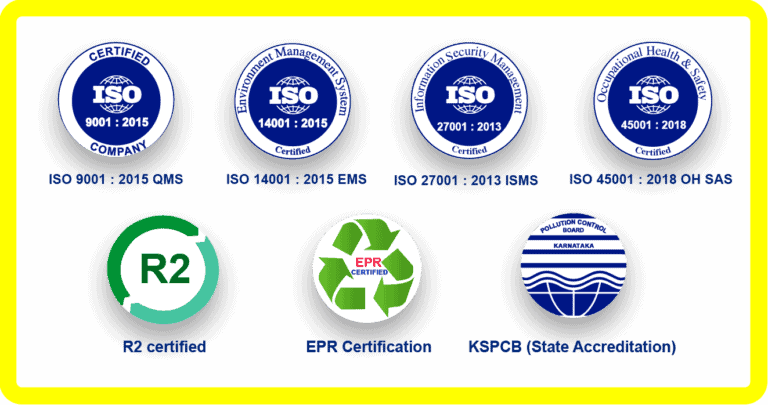 Ready to Find out more about what we can do for you to Stay Safe & Secure